Spring Home Tips & Checklists
3/19/2018 (Permalink)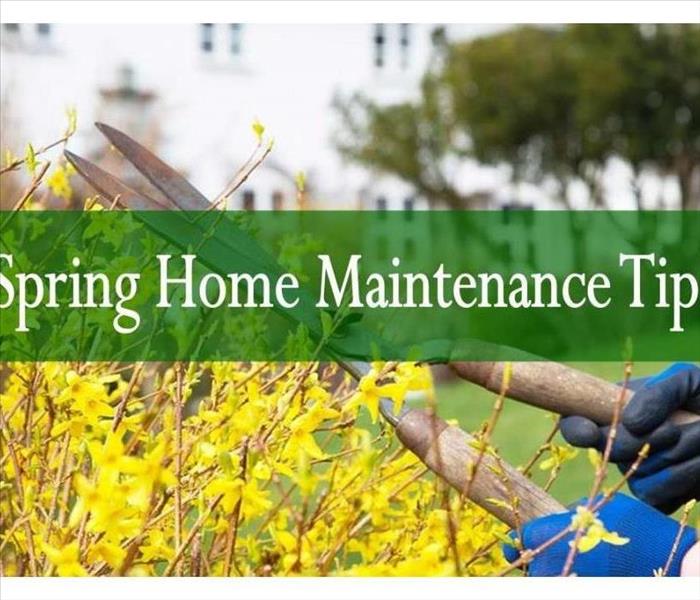 INTERIOR MAINTENANCE
General Cleaning. Spring is a good time to clean areas of the house that often go neglected. Dust or vacuum chair rails, window casings, tops of wall-mounted cabinets and ceiling fans. Launder or dry-clean fabric draperies and use a damp cloth to clean wood and vinyl blinds.
If you detect grease residue in the kitchen, consider washing cabinets, backsplashes and walls with warm water and mild detergent. The same is true in the bathroom, where soap residue and fluctuations in heat and humidity combine to create the perfect breeding ground for mold and mildew. While you're cleaning tile, look for areas of worn or missing grout, as these may lead to more serious water damage if not repaired.
Air Conditioning. Just as you readied your furnace for fall, now is the time to make sure that air conditioning units are in good working order for the warmer months ahead. Change the filter, check hose connections for leaks, and make sure the drain pans are draining freely. In addition, vacuum any dust that has settled on the unit and connections; over time it can impact the air conditioner's effectiveness.
Attics. Search for signs that indicate insects and critters have colonized. Also, search aggressively for mold, which often takes the form of "gray or black blotches that look like staining," according to Tim Gentry, vice president of technical services, DaVinci Roofscapes, Kansas City, KS. Proper insulation and good ventilation will deter mold growth in the attic, so take action now to prevent the problem from developing in the warmer months ahead.
Basements. The basement—prone to dampness and insects—must be part of any thorough seasonal maintenance effort. Dampness suggests higher than normal relative humidity, inadequate ventilation and the need for a dehumidifier. Check the base of poured-concrete walls.
Leaks. Spring is a good time to check for leaky faucets, clogged drains and sweaty pipes. Check under the kitchen and bathroom sink to make sure connections on pipes and hoses are properly sealed, and look for any wetness around the dishwasher that could signal an existing or potential problem. The same is true of your laundry room; check washer machine hoses for cracks, bulges or dampness. The same is true for hot water heaters, which may show sign of corrosion and leaks.
For more information take a look: https://www.bobvila.com/articles/2355-spring-home-maintenance-checklist/