SERVPRO, Professional and Prompt Restoration Services for All of Hicksville
6/26/2019 (Permalink)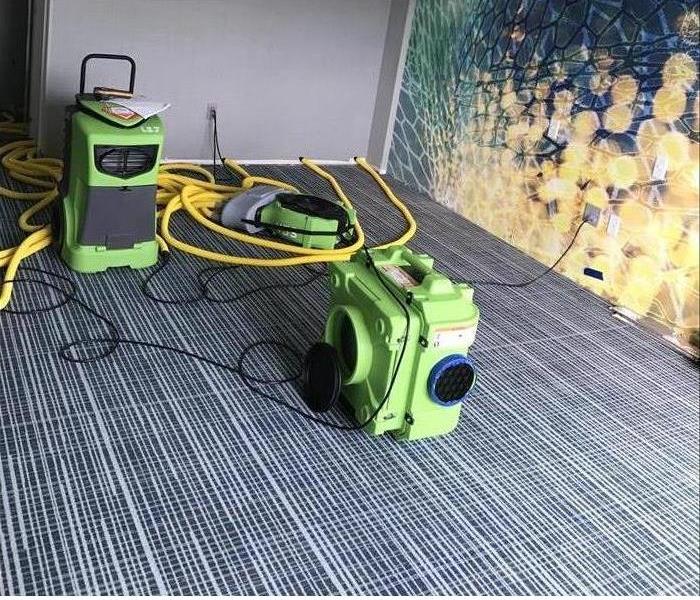 SERVPRO Provides Premier Equipment, Backed by Skilled Technicians for Comprehensive Restoration Services in Hicksville and the Nearby Areas
Why Outsourcing Restoration Services in Hicksville Residences Is a Smart Move
There are so many things Hicksville homeowners do to avoid damage to their homes such as routine maintenance on plumbing, checking the gutters and roof regularly to ensure the winter storms have not left loose shingles or gutters behind. However, you cannot plan for the unexpected, and fires, water damage, and mold are reasons property owners seek out the help of a restoration services company.

The most likely top two rooms in Hicksville homes with water damage are the kitchen and bathroom. Appliance failures such as hot water tanks and dishwashers are frequent sources of water spills in the house. It is vital to begin restoration efforts as quickly as possible to avoid secondary damages to the property and possessions.

Whenever you have a water cleanup situation, if there is any indication migration of the water to hard-to-reach areas such as subflooring or within wall cavities, it is vital to outsource the task. SERVPRO technicians have both certifications and specialized water extraction equipment to remove any amount of excess moisture quickly.

SERVPRO employees limit the loss through our use of the latest technology to detect all areas of heightened moisture in walls, ceilings, and floors, so we mitigate all water loss areas. Then we use our specialized extraction equipment and drying configurations such as floating carpeting that allows us to dry it in place, saving homeowners the cost of purchasing new carpeting.

When Hicksville homeowners have fire damage and contact us for restoration services, we approach the situation with the highest degree of both professionalism and compassion. We know that the aftermath of a fire feels overwhelming and seeing fire debris can give the appearance that nothing is restorable.

Our employees hold certifications as Fire and Smoke Damage Restoration Technicians (FSRT), and we follow the best practices for safe mitigation of both property and possessions after a fire loss. During the fire debris removal stage of cleanup, our technicians perform controlled demolitions as necessary to remove both charred building materials and contents. We also look for items in the home that have restoration potential through our proprietary cleaning techniques.

Our fire cleanup methods include:
Our fire cleanup methods include:
Dry cleaning sponges to pick up smoke residue and soot, so odors do not continue to spread
Wet sponges for wiping away smoke and soot stains
Containment to halt the spread of soot throughout the property
Careful cleanout and debris removal
Pack-out, when needed of home contents to our facility or on-site secure storage pod.
The final stage of fire damage mitigation involves smoke odor control. Our certified Odor Control Technicians (OCT) possess intense training for methods of removal of even deeply embedded smoke odors using equipment such as thermal foggers or hydroxyl generators that safely create UV rays to eliminate odor-causing particles at the molecular level.

No one wants to hear they need mold remediation in their Hicksville property. Once found, the situation needs handling as quickly as possible. Mold colonies tend to spread rapidly once they set up home in areas that maintain excessive moisture and temperatures over 70 degrees. Common places in the home SERVPRO performs mold damage cleanup most often include basements, attics with poor ventilation or leaks and within walls around slow leaks.

Our Applied Microbial Remediation Technicians (AMRT) specialize in the identification and remediation of mold damage. Containment is vital during this process to stop any further spread of spores in the home. When needed, we use industrial hygienists to test the air and identify areas where air quality is not optimum in the house. Mold removal is not possible within a home as it occurs naturally both indoors and outside. The key is not to let conditions develop within the home that allows the spores to germinate and grow. Our goal is to identify the cause of the colony growth and inhibit those conditions in the future after our SERVPRO techs complete mold abatement efforts.

While the US average is 38 inches, this area of New York averages 44-inches of rain yearly, and flood damage in a Hicksville home is a threat in Nassau county year round. Many types of storm damage can happen such as hail damaged roofing, wind damage, and the weight of ice and snow can push gutters away, allowing rainwater and snowmelt into the home.

The clock starts ticking when groundwater enters a home. The best course of action a homeowner can take is to remove items they can safely do so out of the way of the initial water intrusion and call for flood water cleanup assistance from SERVPRO.

Groundwater is a category three biohazard, and for health and safety reasons, homeowners should avoid coming into contact with it. The general term used for this contaminated liquid is Black Water. SERVPRO technicians wear complete personal protection gear when mitigation this type of damage due to the potential for toxins, contaminants, and sewage. We have the equipment to extract both standing and embedded water quickly using our portable pumps and weighted extraction wands to push deep-seated water out of carpet and padding so we can dispose of it safely without the weight of saturation.

Our drying equipment is much more than fans blowing on wet surfaces to dry them. We use the science of psychrometrics in the set up of our powerful air movers. The high-velocity air driving over a surface lifts out moisture which dehumidification equipment removes from the area. Then after drying the room, we treat all surfaces with our professional anti-microbial formulas to inhibit the potential mold growth and pathogens from the Black Water.

Why SERVPRO? The majority of home disasters require professional restoration services, so secondary issues such as foul odors, mold, or structural damages do not occur. Our technicians undergo extensive training and follow the best practices guides of the Institute of Inspection, Cleaning, and Restoration (IICRC.) We follow these best practices to give property owners the outcomes they deserve from their loss through our exclusive cleaning and restoration methods.

SERVPRO of Hicksville / Plainview is available 24/7 at (516) 733-1800 to assist homeowners with any restoration services needed. Our team proudly serves the local area and can handle damage from fire, water, mold or other home disaster and make it "Like it never even happened."

City-Data and more