Storm Damaged Windows Allow Flooding in Hicksville
8/22/2019 (Permalink)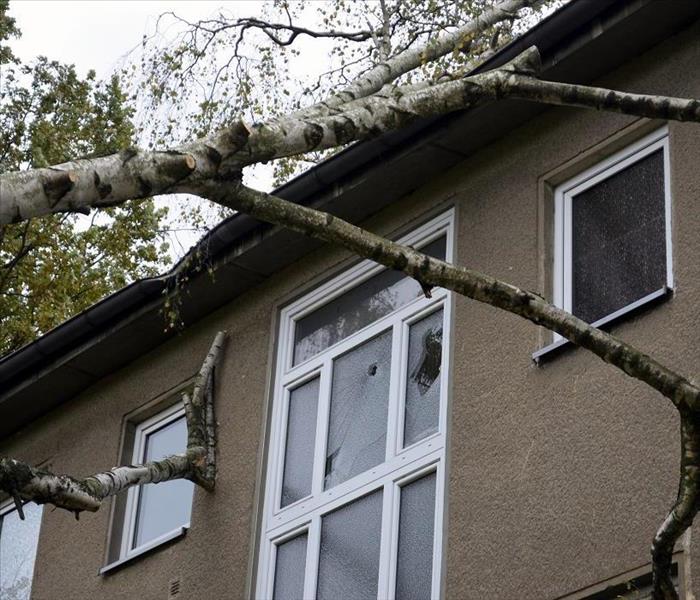 Storm damage includes broken windows. Did you know that we provide emergency board up services? Call us today!
Broken Windows Can Allow Flooding in Hicksville Homes
Severe weather events threaten Hicksville homes in many ways. With a storm that can carry debris and gale-force winds, exposed windows are susceptible to getting destroyed, leaving the property vulnerable to flooding and other potential threats. As one of the leading storm response teams in the area, we strive to help our customers before they need us with helpful strategies to protect their investments. We also have sound equipment and products once a disaster has already struck.
Understanding the steps that you can take to avoid storm flood damage for Hicksville homes is critical. Restoration and recovery solutions can become very costly and time-consuming, leaving homeowners stressed that their properties might never look the same again. While our SERVPRO team has the training and expertise to overcome all levels of storm damage and widespread flooding, every homeowner should strive to avoid these circumstances when possible.
Preparing for a storm can help you to ward off much of the damage that can result. If warnings suggest that a moving system can bring high winds, hail, and other threats, you can work to protect vulnerable areas of the house before the storm arrives. Because windows are such a commonly threatened construction element of your home, boarding up these areas can decrease the likelihood of shattering and exposure to the elements.
Our SERVPRO team understands how quickly torrential rainfall can result in flooding of the exposed area. Even more detrimental is the spread of these effects to endanger the contents of your home and structural elements throughout the entire property. We arrive with rapid drying tools that can work to quickly drop relative humidity and moisture content beneath the established baseline to prevent unnecessary tear-out and reconstruction of saturated materials and belongings.
Storm damages can become a quickly compromising circumstance that threatens not only your house but those that occupy it. Our SERVPRO of Hicksville / Plainview response team is We're Faster To Any Size Disaster, whenever strong weather systems threaten your property. Give us a call anytime you face an emergency at (516) 733-1800.
More about Hicksville.