Why Does SERVPRO's 24/7 Service Matter When Water Damage Occurs In Hicksville?
7/28/2020 (Permalink)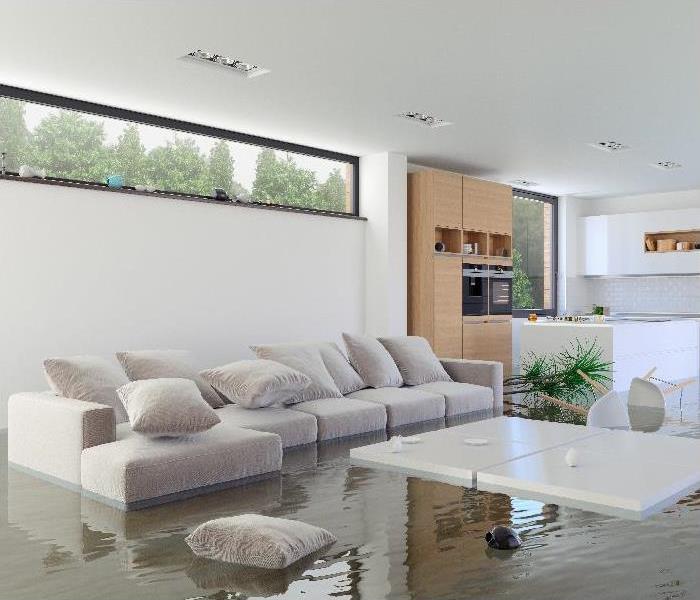 If you need speedy help with water damage, call SERVPRO of Hicksville / Plainview at (516) 733-1800.
A Speedy Response Means Better Results For Hicksville Homes With Water Damage
Hicksville residents want to know that should a disaster occur in their home, and there is someone they can rely on for a speedy response. SERVPRO understands the need for speed when remedying a water problem, which is why we emphasize quick service as part of our response.

No one wants to deal with water damage in their Hicksville home. However, in the unfortunate event of water seeping into your carpets or drywall, you want to know help is at hand when you need it. Water damage does not wait for a convenient time – you can suffer from a leak or flood at any moment. Thankfully, SERVPRO of Hicksville / Plainview is here for you any time, day or night. Our teams work 24 hours a day, seven days a week, all year long. We do not shut up shop at 5:00 PM or close our offices for the holidays. When disaster strikes – we are there.
Why is speed so important when water damage occurs?
Time is of the essence in cases of water damage. A day or even an hour can make a massive difference to how much harm the moisture can do. For example:

• Water saturates everything in its path within minutes, including furniture, carpets, upholstery, and the structure of your home
• In the first 24 hours after water damage, drywall and furniture begin to swell, and metal services begin to tarnish.
• In the first 48 hours after water damage, doors and floors start to warp, paint begins to blister, and mold starts to grow
• If more than a week goes by, restoration becomes much more complicated and costly, and the risk of permanent damage to the home, or health hazards to the occupants, increases sharply

Fast action is key to preventing mold, long-term damage, and warping of your home's structure. That is why SERVPRO is Faster to Any Size Disaster.
What does SERVPRO do to hasten the drying process?
Our technicians understand that the faster we can dry your property, the better for everyone. We start by removing as much water from your house as possible. The more moisture we extract at the start of the process, the faster and more effective drying will be. Our extraction process is thorough, and we use a range of standing pumps, truck-mounted pumps, and wand extractors to draw out as much water as possible.

We are thorough in our work – we do not stop at removing water! We use a range of air movers, dehumidifiers, and fans to dry out your carpets, drapes, furniture, and floors. We train our technicians in the best placement of equipment for each situation.

If some of your belongings need more in-depth cleaning, we take care of that too. Our teams have access to a wide range of cleaning chemicals and solutions, and we can carry out everything from spot cleaning to full immersion cleaning as needed.
What can I expect when SERVPRO arrives?
When our team arrives at your home, they will:

• Start with a walk-through to assess the situation and talk with you about your concerns and priorities
• Check-in with their managers about any specific hazards (such as the need to board up windows) and make a plan to handle those hazards
• Consult with you about the steps needed to restore your home, to make sure you are happy with their activities going forward
• Use a range of moisture meters to take initial moisture readings and ascertain the extent of the water damage
• Draw up a full plan that includes demolition plans for any parts of your home that cannot be saved (such as saturated drywall) and drying methods for everything salvageable.

Our visit begins with a thorough assessment, so you know we have considered all the options, and have all the relevant information to hand. Putting a well-researched plan in place at the start gives you peace of mind because you know what is going to happen next.

A property assessment also hastens the drying process because all technicians know what steps to take and in what order.
What happens after drying is complete?
After our team has finished drying your home and belongings, we work on deodorizing your home using a range of foggers and deodorizing chemicals. Deodorizing is a vital final step because it eradicates the leftover musty smell that accompanies water damage, and leaves your home feeling clean and fresh once more.

We conduct a walk-through with you after remediation is complete. This gives you the chance to see the results of our work while we are still on hand to answer any questions or concerns. The manager in charge of your project will call you a week after project close-out to discuss any lingering questions you may have.

If you need speedy help with water damage, call SERVPRO of Hicksville / Plainview at (516) 733-1800.