Premium Fire Restoration Service in Vibrant Hicksville
12/27/2020 (Permalink)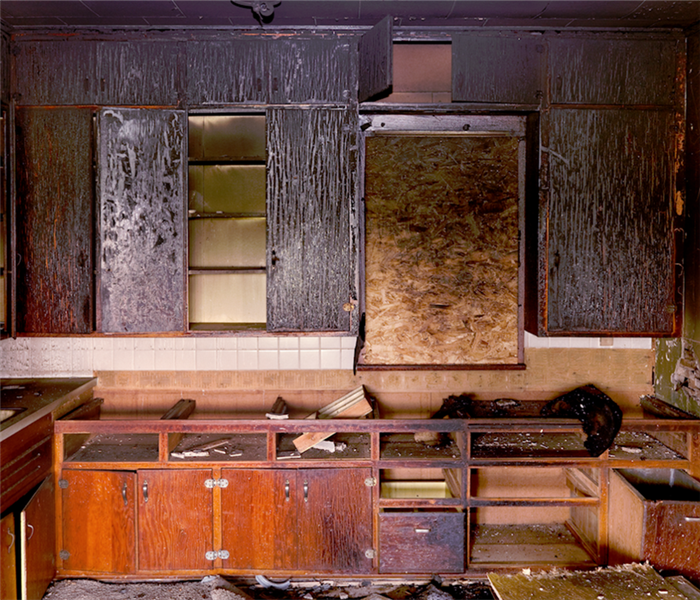 Fire damage remediation needs to happen right away for best results. Contact our certified SERVPRO team 24/7 for effective services.
The Greatest Name to Come Out of Hicksville – Billy Joel
Late one night at a piano bar in Hicksville, a teenage prodigy played an excellent show for the adoring patrons. That fateful night, over forty years ago, would lead to Billy Joel's rise to stardom. However, it was not his performance that evening that launched his career, but rather its consequences.

William "Billy" Joel had grown up like most other children in Hicksville – playful, outgoing, and full of life. His mother, ever worried about her son's future, had pushed him to master the piano since he was very young, but he never truly held a passion for it. Instead, he had begun to make a name for himself in the boxing ring and was a strong student at his high school.
However, the year 1967, when he was slated to graduate from Hicksville High School, proved to be disastrous for Joel. First, he broke his nose in the boxing ring, ending his career before it had much of a chance to start. Then, with his single mother struggling to support the family on her own, he began to play at the local piano bar for some extra income. That fatal performance changed everything when an exhausted Billy Joel returned home and passed out on his bed, forgetting entirely about the exam he had to take in the morning. He missed the exam, failed the class, and was left without enough credits to graduate high school.
Up to this point, Joel had been involved in several Rock bands as a pianist but had never intended to make a career for himself on the stage. Now, with no diploma and few other options available to him, he began playing full-time. His early days playing in and around Hicksville proved influential, and after a few years of disappointment, his career took off. Particularly in his early years, Joel's Long Island heritage influenced his work. His first solo album was Cold Spring Harbor. Joel's most successful song, Piano Man, took partial inspiration from the Hicksville piano bar he played at in his younger days.
Today, few Long Island natives can compare to the global fame that Billy Joel accrued throughout his career. After years of moving in and out of Hollywood, Joel now spends most of his time in New York, close to the same crowds that launched his career so many years ago.
How the Marvelous Little India of Hicksville Got Started
Hicksville is the proud home of one of the most extensive and well-developed South Asian communities in New York, but the town did not always look like this. In the 1980s, Hicksville was indistinguishable from other outlying communities of New York City. The town lacked a distinct identity and character, with few attractions to draw in new development. Then, in the 90s, a fantastic new community started to call Hicksville its home.
One of the first Indian business owners in Hicksville was Raj Kumar, owner of the Bengali Sweet Shop. In 1987, he moved to Hicksville and opened a small South Asian store called the Modern Bazaar. With a bit of traditional comfort to supplement their new suburban lifestyle, the Bazaar attracted other Indian Americans from New York City. After a few years, other South Asian businesses began opening, and the community has flourished since then. At first, the shops and restaurants were small, catering to an ethnic community numbering in the hundreds. Today, the South Asian part of town features many more prominent businesses, including (among many others):
Maharaja Farmers' Market
Patel Brothers Grocery
House of Dosas
Hamza & Madina
Without Modern Bazaar, this community may never have grown into today's desirable and vibrant town. Once, every Long Island resident had to travel into the city to find South Asian restaurants and markets. Today, in a twist of fate, many city residents travel here to find the very best in Indian goods. Make sure to stop by the Bengali Sweet Shop to show some support to the pioneer family who helped make it all happen.
Damages that can Occur by Putting Off Fire Restoration in your Hicksville Home

One of the worst mistakes that we see local Hicksville residents make is putting off fire restorations after a disaster. Many different influences can lead to this decision, but the result is always the same. By leaving the professional restoration work for later, the consequences worsen and cost much more to repair. Here are some of the most severe damages that can happen when restoration professionals do not arrive on time.
Set-In Odors

Smoke odors result from most house fires, including smaller ones that are extinguished quickly. These odors can persist for years and are not easily masked by common air fresheners. Smoke smells can be removed via industrial tools such as:
HEPA and charcoal filtered air scrubbers
hydroxyl generators
thermal foggers
SERVPRO professionals are trained to use these machines and can eliminate even the most long-standing odors, but no amount of expertise can overcome simple chemistry. The longer the smoke particles have had to embed themselves in your home, the longer it will take to remove them.
Material Degradation

Some house fires produce smoke that can break down common materials in your home. Sometimes, the items can be salvaged, but in many cases, they can be degraded enough that repairs and refinishing are no longer an option. Depending on where the fire happened and what it burned, ash and smoke can break down many materials, including the following.
Paint
Upholstery
Metallic finishes
Electronic components
These damages occur over time, and by calling SERVPRO immediately after a fire happens, you allow no time for them to cause extensive damage.
Spreading Damages

After a fire, we always recommend that you shut down your HVAC system or at least replace the filters. Without these precautions, the vents in your home may spread ash, soot, and smoke throughout the house. Compared to a single room, the costs to eliminate odors in an entire house can be enormous. Talking to our experts after a disaster helps you to avoid this pitfall and many others like it. In the event of a furnace Puff Back, always call us for cleanup.

SERVPRO of Hicksville / Plainview is a professional and certified fire restoration company in Hicksville. Call our 24/7 emergency phone line at (516) 733-1800.