Cleaning Up After Water Disasters in Hicksville Businesses
2/1/2021 (Permalink)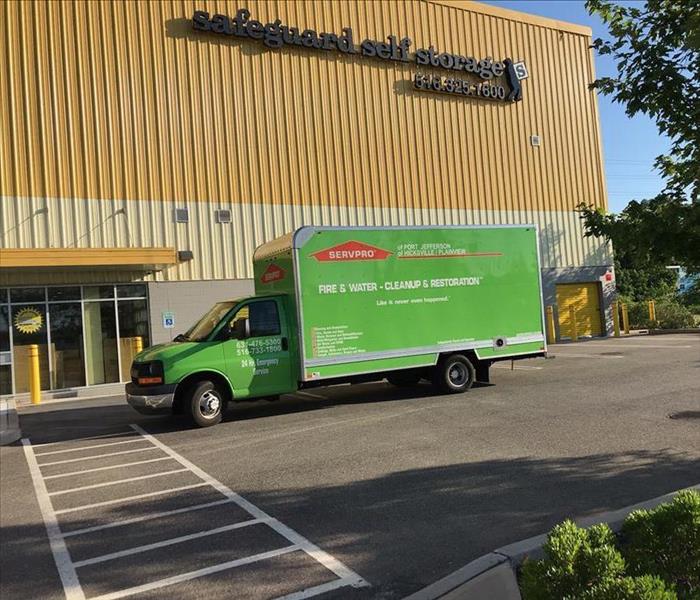 Water disaster is no easy task. Leave it to the professionals at SERVPRO for the water restoration services needed to get your business back going.
A loss incident in area businesses could impact hundreds, so mitigation and restoration are critical.
The city of Hicksville exists precisely because of the Long Island Rail Road, as this area was developed initially to be a stop along this track. The eventual president of the railroad, Valentine Hicks, would purchase land to begin setting up his depot along the line between 1834 and 1837. From being a critical point of transportation for cucumbers from the Heinz Company and potatoes grown by local farmers, the boom after World War II would see the size of this developing community grow exponentially.
Many saw the promise and allure of the landscape and climate of Hicksville, not to mention the proximity to New York City, which allowed it to be a point where growing families could commute to the city without compromising their vision of life with a white picket fence. To this day, Hicksville continues to be a hub of activity for many businesses and grows in its population.
A Place to Make Your Base
Despite its origins as a prominent hub on the Long Island Rail Road line, the modern city also appeals to businesses looking to establish stable headquarters. While there are no shortages of franchises and commercial properties to be found within the city limits, individual companies have constructed their primary base of operations within Hicksville. Some of these include:
National Grid USA (KeySpan Energy)
Retail Experiences for Any Shopper
There are multiple retail locations throughout Nassau County worth visiting. One of the most prominent shopping locations to appeal to a wide variety of buyers is The Broadway Mall on North Broadway. This area is more than 1,200,000 square feet and features close to 100 stores and services. This plaza and shopping center has been around since 1956 when it first opened up as the Mid Island Shopping Plaza. Today, the modest original plaza has brought in significant anchor stores like IKEA, Target, H&M, and more.
Water Cleanup for Hicksville Businesses
Water disasters pose significant threats to area homes and businesses right away, making tasks like water cleanup in Hicksville commercial properties so challenging. Getting mitigation started as soon as possible can reduce the spread and severity of loss effects. However, our SERVPRO team must also implement specific services like content relocation to protect your wares and inventory from irreparable damage.
Cleanup often hinges most on efficient and thorough drying solutions. The heart of this process is a combination of air movers and dehumidifiers placed strategically through the property. For areas like warehouses, air movers can get daisy-chained together to maximize evaporative drying.
Protecting your business after a water disaster often means trusting in our fast-responding restoration professionals. Our SERVPRO of Hicksville / Plainview team has efficient solutions to make water disasters "Like it never even happened." Call us today at (516) 733-1800.