Where Can Property Owners Get Professional Flood Damage Restoration Services in Hicksville?
10/1/2021 (Permalink)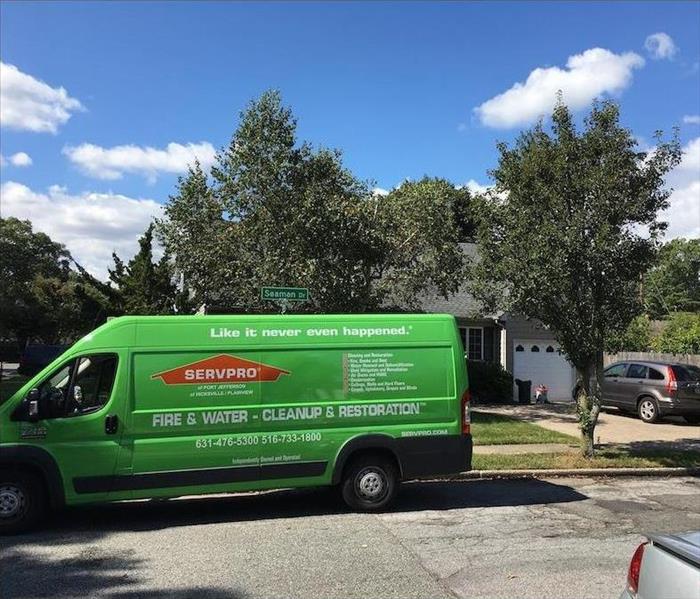 Storm and flood damage restoration services by SERVPRO are second to none. Call now for fast and immediate service for your home.
They Can Contact a Reliable Restorer Like SERVPRO for Fast Flood Damage Restoration in Hicksville
A flood can cause severe, long-term damage. Structural damage can undermine the property's foundations and structural integrity. Therefore, it is vital to have professional restorers like SERVPRO to help handle the situation as soon as possible since the damage that is not visible is usually more severe than what is seen.
Most property owners are tempted to repair flood damage in Hicksville homes without proper tools and equipment, which leads to inefficient drying. The cosmetic fix can look reasonable for a while, but the damp trapped in the framing and framing materials reappears eventually after a few months. Throughout the day, seven days a week, SERVPRO experts are available to respond quickly to flooding emergencies and begin repairing the damage whenever possible. We offer specific restoration services for flood damage, including:
Thorough inspections
Extraction of water
Cleaning structural elements and furnishings
Removal of odors
Dehumidification or air movement to dry materials
Unlike some flood damage repair companies, SERVPRO experts have the training and equipment to extract sewage and flood water quickly and efficiently. We can use self-priming trash pumps to remove floodwater. The diesel-powered equipment can pass solids less than 3" and leave the surface with only moisture.
Our team of highly trained technicians works fast to minimize damage and get your property to its preloss state. During water removal, we check all areas, including behind drywall. Our SERVPRO restorers can use a hand drill to make a small hole where we can use inspection cameras to determine the presence of moisture. We can use structural cavity drying equipment to direct air behind the drywall and under stationary to ensure effective drying.
When the unfortunate happens, contact SERVPRO of Hicksville / Plainview at (516) 733-1800. We can do our best to make the flood damage seem "Like it never even happened."