How Dry Cleaning Is Used to Remove Soot Damage in Hicksville Homes
10/25/2021 (Permalink)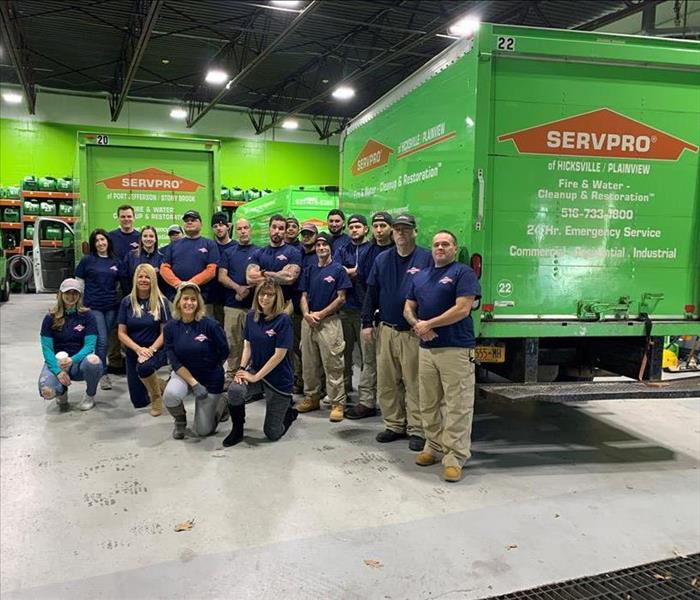 Why SERVPRO for fire damage mitigation in Hicksville? We've the dynamic team, equipment, and products to clean it all, "Like it never even happened."
Dry cleaning methods are popular for removing specific types of smoke damage in Hicksville properties.
Removing soot and smoke residues involves many considerations, such as the composition of these soils and the affected surface materials. As widespread and threatening as such conditions could be, we have several practices to handle soot removal both in dry and wet cleaning varieties.
Pre-Cleaning Actions

Pre-cleaning is one of the favored methods of reducing restoration time for fire damage in Hicksville properties. Pre-cleaning aims to eliminate heaped soils and thick residues before the chosen restoration process gets underway. Some of these options include:
Vacuuming– This process removes light debris and particles. It is a common method for preparing a surface for more complex and direct cleaning.
Brushing– This process is ideal for the mechanical needs of cleaning to abrasively dislodge and loosen soils from building materials.
Airblasting – As a mildly aggressive approach, pressurized air blows away debris and soils on surfaces to leave a material ready for dry cleaning.
Sponge Cleaning of Dry Smoke Damage
Rubber chemical sponges are a common staple for dry-cleaning approaches after a fire. Chalky residues produced by high-heat and rapidly spreading events can leave a thin film of residue on vertical surfaces and ceilings. Chem sponges can remove the soot particles without damaging the underlying surface with harsh chemicals or wet cleaning approaches.
Washable Surfaces and Contents

Depending on the composition of the soot damage, wet cleaning might also be required at the same restoration project. Washable surfaces and contents benefit from these cleaning strategies and powerful products that can balance pH and dissolve stubborn soot.
No matter how fire damage impacts your home, our SERVPRO of Hicksville / Plainview team can help. We are ready 24/7 with effective cleaning strategies and mitigation equipment. Call us today at (516) 733-1800.