Causes of Water Damage for Hicksville Properties this Winter
12/29/2021 (Permalink)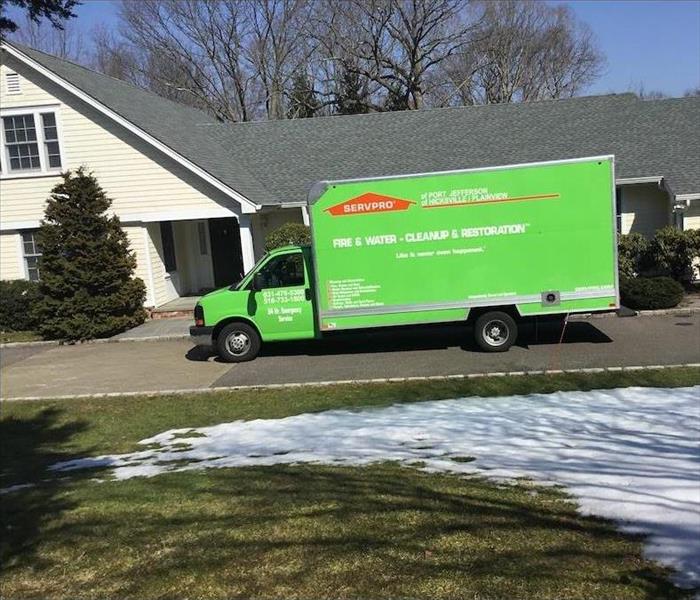 When the elements cause damage to your home, SERVPRO storm damage restoration techs are the team for you. Call now for fast and immediate service.
Hicksville homeowners should prepare for possible winter water damage with direct preventative measures.

As the winter settles in, homeowners can begin to see where some of their property's defenses against environmental conditions fall short. For example, when insulation is insufficient, several possible water damage situations can result.
What Are the Main Concerns of Winter Property Damage?
There are many unique circumstances like frozen pipes and ice damming Hicksville homes can experience during the winter months. Knowing what to expect can help you take more preventative measures to protect your property.
Burst Pipes – Direct cold exposure to vulnerable pipes can freeze standing water inside. As it expands, becoming a solid, the possibilities of a line rupture increase rapidly.
Ice Damming – When ice forms along the edges of a roof, snowmelt can be forced back underneath roofing materials to flood an attic space.
Roof Damage – Heavy snow and even the weight of snow and ice on trees and limbs can prove destructive to an aging roof suffering the elements.
Flooding - Flooding threatens area homes when ice jams up a flowing river and forces water over the banks.
How Is SERVPRO Here to Help?

People in the area have grown to trust in the reliable name of SERVPRO when disasters strike. Water damage during the winter months can worsen, especially with direct exposure to freezing conditions. From our fast water removal services to clear standing water from the house to thorough evaporative drying, we can make water damage "Like it never even happened."
The possibilities of winter water damage cannot be undersold for area homes and businesses. Extreme conditions like cold snaps find vulnerabilities in the property like under-insulated pipes and plumbing. Our experienced SERVPRO of Hicksville / Plainview team can work fast to limit the damage these events can cause while restoring the house. Call us today at (516) 733-1800.