Reasons to Hire Mold Removal Companies in Hicksville
1/14/2022 (Permalink)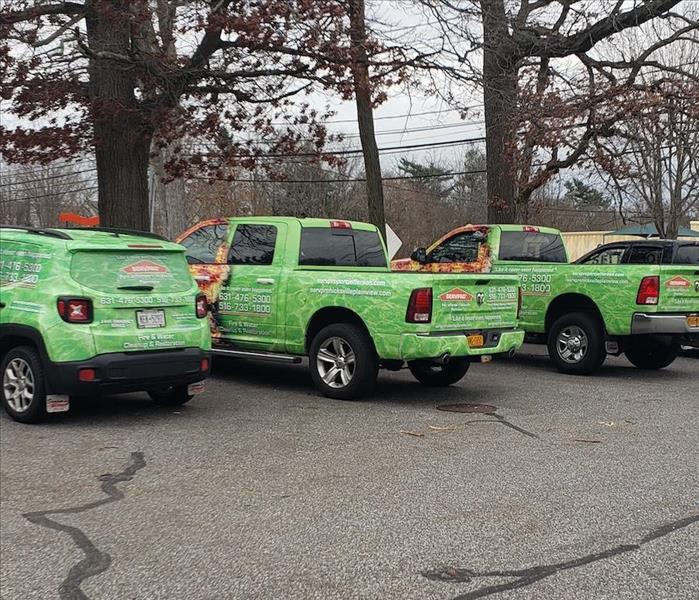 Mold damage remediation services by SERVPRO are second to none. We will be on-site within 4 hours of the initial call.
Reputable Mold Removal Companies in Hicksville Like SERVPRO Can Restore Your Property Efficiently

When a water intrusion incident occurs in a house due to roof leaks, construction defects, plumbing leaks, substandard materials, and appliance malfunctions, mold can grow. Mold can cause health issues for anyone living in your home. You, therefore, need to remediate it as soon as you spot it. Our SERVPRO technicians can assess the mold damage and take steps to remediate it.
As one of the reputed mold removal companies in Hicksville, we understand the nature of mold spores, the suitable conditions for mold infestation, and how to remediate it. A successful remediation process typically prevents mold from returning.
Our Mold Remediation Process
Despite what caused the mold infestation in your residence, our SERVPRO mold remediation experts have a solution to take care of the problem. This process may include:
Using antimicrobial and antifungal treatments to remediate mold.
Removing mold spores from the air through filtering, capturing, and scrubbing.
Cleaning and deodorizing affected structures and contents.
Repairing the damaged areas of your home.
Our restorers usually perform a visual examination to determine the extent of the damage that mold growth has caused. Mold feeds off moisture, and therefore, our technicians repair any leaks during the first phases of the mold remediation process.
Our SERVPRO mold cleanup specialists use various devices to ensure proper testing of the levels of moisture in the home. We can use penetrating moisture meters to detect the moisture content of building materials like wood, brick, carpet, and concrete. These moisture meters operate on the principle of electrical conductivity by penetrating the materials we are testing. The presence of moisture influences the electrical conductivity of the material between the probes. The electrical conductivity is measured and displayed on a digital or analog readout.

Our SERVPRO restorers also clean the damaged materials to deal with mold. We can remove and replace extensively damaged materials.
If you need mold cleanup services, call SERVPRO of Hicksville / Plainview at (516) 733-1800. We're Faster To Any Size Disaster.