Is There a Risk of Mold Damage after Rain in a Hicksville Home?
11/23/2022 (Permalink)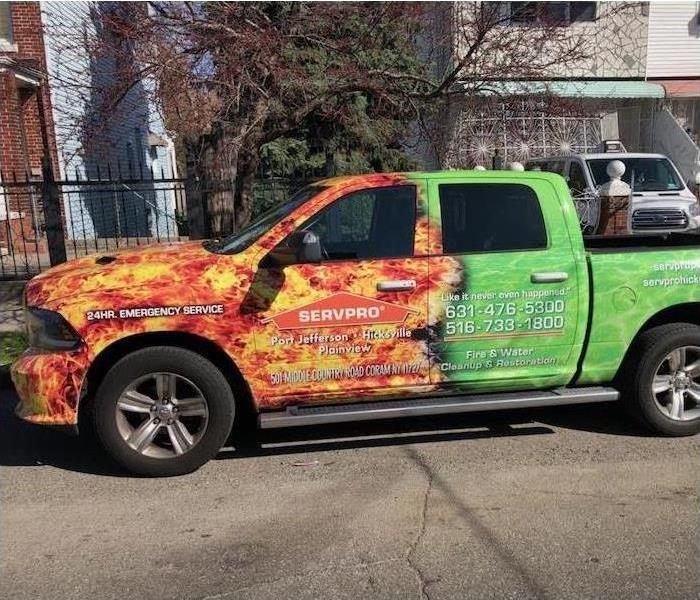 Why SERVPRO for mold damage mitigation in Hicksville? We have a dynamic team, equipment, and products to clean it all, "Like it never even happened."
SERVPRO Stays on Top of Mold During Hicksville Remediation
Residents of Hicksville know that New York is a rainy place all year round. Even in summer, Hicksville can be a wet place to live. Unfortunately, rain can seep into your home through leaky windows, doors, or roofs and cause damage to your house.
There are many considerations after water damage in Hicksville, including mold. You might also worry about the wooden door or window frames soaking up moisture and becoming warped. There is also the risk of water soaking into carpets or wallpaper.
How Does SERVPRO Restore your Home After Bad Weather?
Our team arrives ready to assess the damage to your home and advise you about the best course for restoration. Our approach includes:
Deciding which water damaged articles are salvageable and which are not.
Setting up safe and sanitary working areas for our technicians.
Measuring moisture levels in wet materials and humidity in the air.
Setting up air movers and dehumidifiers.
Cleaning furniture, linen, drapery, and carpets.
After our SERVPRO applied microbial remediation technicians (AMRT) have completed scoping, they follow professional protocols for restoring your property to its preloss state.
What Does SERVPRO Do to Tackle Mold?
Part of offering a comprehensive service is being aware of the risks of a mold infestation. We take steps to remediate the fungi when we find them. Dormant spores grow whenever there is moisture and an organic food source such as cotton, cellulose, or even wood.
Because fungus occurs naturally everywhere, it is not possible to completely eradicate it. However, we can take steps to contain these microorganisms where we find them. We can:
Remove mold-infested materials that are not salvageable.
Use plastic sheeting and tape to set up containment.
Cover vents and seal doors and windows to prevent spores from circulating in the treatment area.
Set up negative air pressure and port to the exterior using air scrubbers.
Reduce humidity, so the environment is not as welcoming to fungus.
We can also remove visible growth. We train our technicians in the best ways to use antimicrobial and antifungal treatments to remove mold. In some cases, the best option is to use soda blasting or dry ice pellet pressurized force to remove the colonies from the surfaces. HEPA filtered vacuums can help prevent the spreading of dust, debris, and spores to unaffected areas of the structure.
Why is Air Filtration Important?
The Environmental Protection Agency (EPA) states that air quality can be a concern when a home gets flooded or water damaged. The damp environment can encourage fungal growth, which quickly proliferates as time passes. Because spores are so tiny, they can easily escape into the air. Air filtration helps capture these loose spores.
SERVPRO uses air scrubbers to help remove microbes from the air. Air scrubbers draw in air and use true HEPA filters capable of catching particles as small as 0.3 microns to trap mold. The machine then pumps pure, clean air back into the room.
Air filtration also helps remove musty and moldy odors from your home, thereby improving indoor air quality. We can improve IAQ through filtration and mechanical devices like air scrubbers and foggers. The placement of counteractant gels and beads can also help achieve a more rapid pleasant scent.
If you are concerned about water or mold damage in your home, SERVPRO of Hicksville / Plainville is here to help. Call us today at (516) 733-1800 to learn more.